Study online from anywhere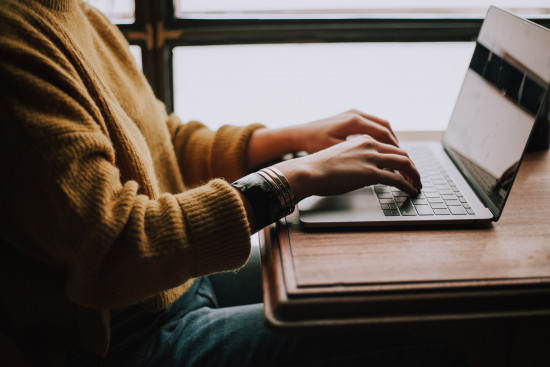 You can study on our bachelor's programme in Global Business and Management from anywhere in the world with our online study option.  The programme is delivered remotely via real-time lectures and seminars, giving you the all of the benefits of a conventional degree programme, without having to relocate.
Students meet their lecturers and classmates using digital learning tools, and visit NEWTON University for short-term stays during the semester and/or in the summer. They also receive additional support with arranging internships in the Czech Republic. 
The tuition fee for this study option is 80 964 CZK (approximately 3300  EUR) per academic year.
What are the benefits?
100% online, 100% hands-on. Gain real-world work experience and work on challenging projects from anywhere. 

 

 

The future of work is digital! Online studies will prepare you for a career in a world where digital technologies play an ever larger role.

Online means no more borders. Build a professional network with students from all around the world.
Frequently Asked Questions
Read what our students like about studying online
Thinking of applying to study with us online? Read what a typical day looks like for our students, Daniela and Brendan.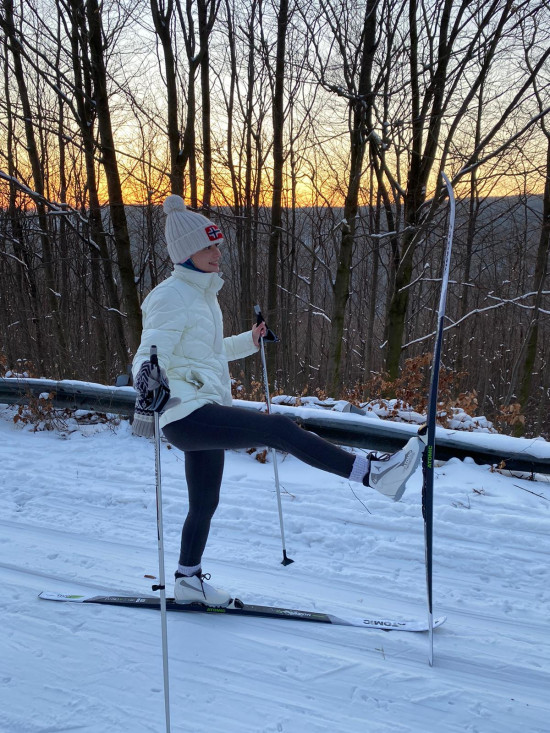 A Day in the life of Daniela
Daniela Vrancová is from Slovakia, and studies remotely from her home in Senica, near the Czech border, where she lives with her boyfriend and their labrador retriever, Ciara. She chose the Global Business and Management programme because she wanted the flexibility to study online, and also to keep up the English language skills she'd gained during a trip to Miami. In addition to studying, she works with her partner on an app-based real estate start-up, which he founded, and she loves the fact that she gets to apply the things she learns in class in a real-world setting, and vice versa. 
Daniela's days usually begin at 8am, when she's woken by her dog. She then has a coffee, before heading out for a walk. "Fresh air is great for the mind, and it helps to make me productive for the day!"
Afterwards, Daniela and her partner usually spend a couple of hours working on their business from home, before preparing some lunch. 
In the afternoon, she'll attend classes on Zoom. She appreciates the interactive teaching style, which is different from online classes she's taken before: "Classes are a two-way dialogue between the teacher and the students, so I need to be really engaged and focussed". 
After her classes are finished for the day, she'll take Ciara for another walk, so that they can both wind down for the day. 
For dinner, Daniela and her partner usually order food. After dinner, she'll either chat with friends online, or watch one of her favourite shows on Netflix before heading to bed around midnight.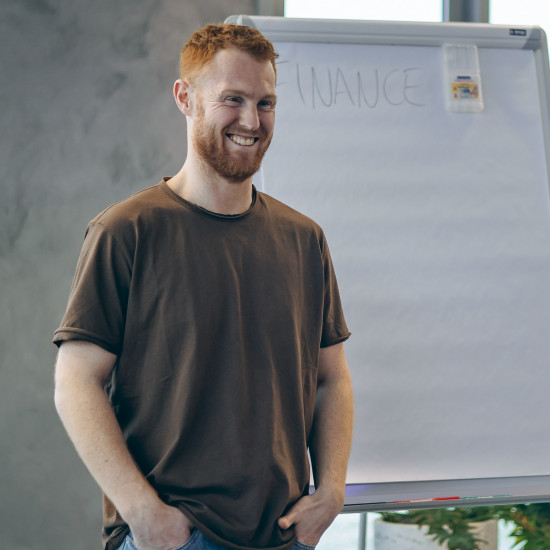 A day in the life of Brendan
Brendan Tucker is a health and mental health coach from Australia, who has lived in Czechia for four and a half years. He chose to study at NEWTON because it was important to him to learn from people with real life experience in the areas they are teaching, rather than just theoretical knowledge. He lives with his wife and two children in Prostějov in Moravia and studies online, which gives him the flexibility to fit lecturers and classes around his family life and work commitments.
Brendan's days usually start at 6am, when he gets up early to have a bit of time to himself before his kids are awake. He uses the time either to exercise, or to drink tea and read, before preparing breakfast for the whole family at 7am.
After breakfast, he gets his son ready for school, and then drives him there for 8am. Depending on the day, he'll start listening to the first lecture of the day in the car on the way back, before joining from his laptop once he's back. 
During the morning, in between lectures, he'll do some housework and prepare lunch. Around midday he has lunch with his wife, and then he'll take his other son for the afternoon, so that she can go to work. In the afternoon, he'll often do food shopping, or some of his own work, and later spend time with his family. 
Brendan and his wife then have some time together to consider their schedules for the next day. "My wife runs her own business, so she has a lot of flexibility, but things can also come up at the last minute that mean we have to change our childcare plans".
In the evening, he carries out his coaching activities. The majority of his clients are in the UK and the US, so working quite late in the evening means the time difference works for them, as well as allowing him to work while his wife is at home to take care of the children.
His last coaching session usually ends at 10pm, and then he heads straight to bed.